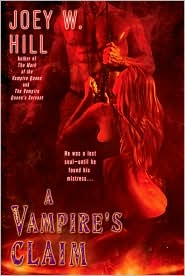 Title:
A Vampire's Claim
Author:
Joey W. Hill
Publishing Date:
March 2009
Genre:
Paranormal (Erotic)
Rating:
B
Sensuality:
Burning
A Vampire's Claim
is book three in Joey Hill's Vampire Queen Series.
A Vampire's Claim
even though it is the third book actually takes place about 60 years prior to the first two books of the series. The first two books are about Lyssa and Jacob and you don't necessarily have to have read them to enjoy this book. Although, the first two books are good and you might want to read them anyway! This book is the story of how Devlin, an Australian bushman became Lady Daniela's servant.
Lady Daniela is a vampire and it is common for vampires to take a human servant that they give three marks. While all servants are given at least two marks it is a very special honor to be chosen for the third mark. A unique and very strong relationship forms between a vampire and her fully marked servant. She has to rely on this servant for protection while sleeping, nourishment from their blood and also physical and emotional companionship. Dani is a young vampire and hasn't ever had a fully marked servant before. When she meets Dev it seems their destiny is inescapably intertwined.
A Vampire's Claim
is an extremely scorching hot read with most of the focus being on Dani and Dev's physical relationship. What first starts out as a sexual attraction, slowly evolves into a deeper emotional attachment that has both Dani and Dev worried. Dev himself is a damaged man who lost a wife and child tragically. He is no longer capable of loving on that level again. Dani is supposed to view her human servant more as a beloved pet than a soul mate. She worries about her unnatural attachment to Dev.
The world building takes a backseat to the sex, but what is there is good. Vampires live in a hierarchy and play dangerous political games. These games make it possible for Dev to showcase his talents in both bed and out. Readers will fall in love with the tragic hero and root for him to find peace. Dani is not as well drawn as Dev, but is still a worthy heroine for him. Fans of Joey Hill and readers who enjoy lots of imaginative sex won't want to miss
A Vampire's Claim
.
Here is what others had to say:
Dionne Galace
You can purchase this book in print format from
Amazon
.